64 Slice CT - It's the new technology everyone is talking about….
The 64 slice Computed Tomography (CT) system; also know as a "CAT Scan" is a medical diagnostic tool that allows the visualization of internal structures within the human body. This aids physicians in diagnosing disease, viewing internal abnormalities and assessing the extent of trauma damage.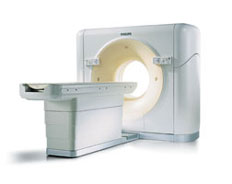 64 slice CT Angiography (64 slice CTA) is a new, state-of-the-art, non-invasive, diagnostic tool that visualizes the heart, aorta, lungs, abdomen/pelvis, and coronary circulation and may dramatically alter the way cardiac and vascular diseases such as coronary artery disease (CAD), dissections and aneurysms of the aorta, and atrial fibrillation are diagnosed, evaluated and treated.
The 64 slice scanner produces near perfect, three dimensional, high quality diagnostic images of the heart, aorta, lungs, abdomen/pelvis, and coronary circulation.
The 64 slice CT scanner offers physicians the ability to quickly and non-invasively diagnose cardiac and vascular disease. Quick diagnosis using 64 slice CT technology will result in patients' receiving life saving treatment in a more timely manner.
The new scanner emphasizes a new level of patient comfort. Testing is performed as an outpatient service; it takes seconds to produce images and uses a very low amount of contrast. The results provide physician's dynamic imagery that is four times more detailed than standard CT scanners. The scanner captures images in five heartbeats and has the capability to scan the whole vascular system.
Heart motion has historically made CT cardiovascular scans challenging and prone to blurring. Due to its speed, the LightSpeed VCT is enabling physicians to secure extremely high-quality images of coronary arteries at sub millimeter resolution in only five beats of the heart. This enables a fast and less-invasive diagnostic evaluation of arterial stenosis.